If you want to win the Mega Millions from South Africa, the first thing you need to know is how to play. We're going to take you through the main rules and all the special features of this exciting game. When you play online, you can access some advanced play options that will boost your odds of winning one of the amazing Mega Millions prizes and we are going to tell you all about them right here!
---
Mega Millions Rules
Playing Mega Millions is simple. All you have to do is pick 5 main numbers from 1 to 70 and a Mega Ball from 1 to 25 for each line you play. To win the big jackpot, you have to match all the main numbers and the Mega Ball. There is also a multiplier in the game, called the Megaplier. This is an optional feature that you can add to your ticket for an additional fee to boost the secondary prizes 2, 3, 4, or even 5 times.
---
When Are the Mega Millions Draws?
The official draws in the US Mega Millions are held twice a week, on Tuesdays and Fridays at 23:00 EST. To enter a draw, you have to put in your ticket before the cutoff time, which is 22:00 EST. When you play Mega Millions online on theLotter, you can set up to receive notifications about Mega Millions draws to make sure you buy your ticket in time. You can also set up a subscription and never miss a draw again.
---
How to Play Mega Millions from South Africa
The easiest and safest way to play Mega Millions from South Africa is on theLotter, the world-leading online lottery messenger service. All you have to do is create an account on the platform, select Mega Millions from the available lotteries, and choose the numbers you want to play. Then, you can purchase your Mega Millions ticket online and one of the company's local agents in the US will buy the official ticket on your behalf from an authorized retailer. You will receive a scan of the official ticket in your theLotter account before the draw takes place.
---
Pick a Play Format that Best Suits Your Style!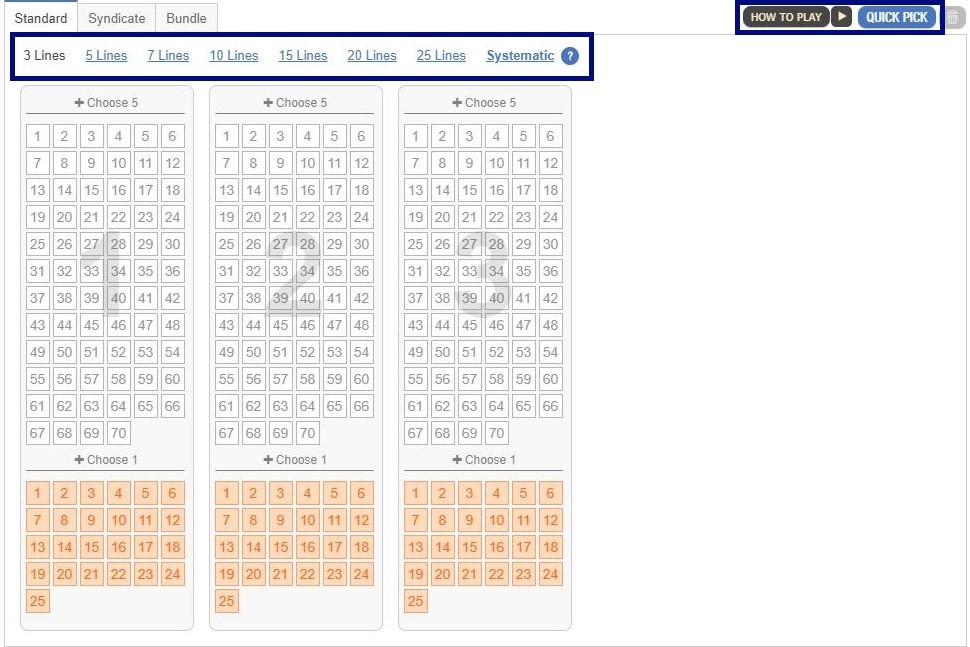 theLotter offers you the chance to play your favourite lottery in several different ways. You can enter your numbers for one draw only, you can choose a pre-determined number of draws known as a Multi-Draw (available for 3, 5, 10, 25, or 52 draws).
You can also play with a Subscription, which continuously purchases a new ticket to your chosen draw with your selected numbers until you decide to unsubscribe.
When you purchase a Multi-Draw, you benefit from discounts of up to 25%. Each subscription comes with the 10th ticket free. So, besides making sure that you have your ticket and stand a chance in the following US Mega Millions draws when making plans ahead, you also cut costs.

As for play formats, there are several available on theLotter and each of them comes with its own benefits. Here is a short overview of the options you have when playing online:
Standard – Standard tickets are yours and yours only. You are the sole owner of the ticket and of any potential wins. You can play with 3, 5, 7, 10, 15, 20, and even 25 lines at once. This is the traditional way of playing the lottery which never goes out of style.
Systematic forms – Try your luck with all possible combinations of 6-11 numbers. This gives your odds of winning a prize in the Mega Millions a huge boost. If you match even some of the winning numbers, you will have them on more tickets, and scoop away more prizes. Systematic forms are like your very own multiplier, which makes this play option a great advantage!
Syndicates – improve your odds by playing with a group. On theLotter, you can purchase a share in a Mega Millions syndicate and enter the draw with a large number of tickets for only a fraction of the cost. There are different types of syndicates and you can read about them on our page dedicated to US Mega Millions syndicates.
Bundles – on theLotter, you don't have to decide between standard play and syndicates. With Bundles, you can purchase an individual ticket in the Mega Millions as well as a share in a syndicate and all for a discounted price. There are different types of bundle offers available, depending on the number of shares included in the package. Get ready for the amazing offers!
---
Mega Millions Megaplier

The Megaplier is another great feature of the US Mega Millions lottery. This is a multiplier ranging from 2 to 5. It does not influence your odds of winning, but it does boost the value of your wins. If you choose to play with the Megaplier, there is an additional cost added to the ticket price, but in case you win, your prizes get 2x, 3x, 4x or 5x bigger, depending on the value of the multiplier for the respective draw. Imagine that you won $1 million – the US Mega Millions second prize, and played with Megaplier. If the Megaplier of the draw was 5, you don't scoop $1 million, but an incredible $5 million! If you want to add Megaplier on your US Mega Millions ticket purchased on theLotter, just make sure you checked the Multiplier box at the bottom of the play form.
---
Can I Play Mega Millions Online from South Africa?
Yes! theLotter's services are available from wherever you are. Not only can you choose from draws taking place in over 20 countries, you can also continue playing, regardless of your location. Now you are no longer restricted to the South African lotteries, but the entire world is open to you. You can expand your horizons and keep buying your tickets even if you move to another country or simply travel abroad.
---
Mega Millions FAQ
Below you can find the most commonly asked questions about how to play Mega Millions and the answers to them. Take a look!
Can you choose your own numbers in the Mega Millions?
Yes, you can choose the numbers you want to play in the Mega Millions lottery. You have to pick 5 main numbers from 1 to 70 and a Mega Ball from 1 to 25. You can also choose the Quick Pick option to play with random numbers.
What is a Mega Millions Quick Pick?
A Quick Pick Mega Millions ticket features a random combination of numbers. If you do not want to choose the 5 main numbers and the Mega Ball yourself, then you can play with this automatically-generated set of numbers.
How do you pick the Megaplier?
You can't pick the Megaplier number for your ticket. You can add the multiplier feature for an extra $1.00 fee and if you win any of the secondary prizes in the game, then your win will be increased 2, 3, 4, or 5 times. The number of times that the prizes get multiplied depends on the drawn Megaplier.
What is the guess range for the Megaplier?
There is no guess range for the Megaplier because you cannot choose the Megaplier you want to play. This is drawn during the official Mega Millions draw from a separate barrel featuring 2x, 3x, 4x, and 5x balls. The drawn Megaplier determines the number of times that the secondary prizes are increased.
Do Quick Picks ever win the lottery?
Yes, there are plenty of Mega Millions winners who have gotten their jackpots by playing with Quick Pick. While there are plenty of lottery winners who always use the same numbers for their tickets, there are a lot of others who have gone into the game with a random combination of numbers and it paid off.
Can you play Mega Millions with the same numbers on two tickets?
Yes, you can play the same numbers on as many Mega Millions tickets as you want. Even though it cannot bring you more than one jackpot, it has the chance to bring you several secondary prizes.
Do the numbers have to be in order to win the Mega Millions?
No, the numbers on your ticket do not need to be in the order that they are drawn in. As long as you have the winning main numbers and/or the Mega Ball on your ticket, then you qualify for the Mega Millions prizes. However, keep in mind that the Mega Ball cannot replace one of the main numbers and vice versa because they have different guess ranges.