Playing Mega Millions is simple. All you have to do is pick 5 main numbers out of 70 & an additional one called the Mega Ball out of 25. You can buy 5, 7, 10, 15, 20, and even 25 lines. The more lines you play, the more you can benefit from more chances of winning.
If you want to boost your winning odds even further, try a systematic form or join an online syndicate. For your individual tickets, you can use the Megaplier multiplier that can boost the value of your prizes up to 5 times. For instance, if you win the second prize with Mega Millions, you scoop $1 million, but your cash amount can be of up to $5 million if you play with Megaplier!
Pick a Play Format that Best Suits Your Style!
theLotter offers you the chance to play your favourite lottery in several different ways. You can enter your numbers for one draw only, you can choose a pre-determined number of draws known as a Multi-Draw (available for 5, 10, 25, or 52 draws), or you can play with a Subscription, which continuously purchases a new ticket to your chosen draw with your selected numbers, until you decide to unsubscribe. When you purchase a Multi-Draw, you benefit from discounts of up to 25%. Each subscription comes with the 10th ticket free. So, besides making sure that you have your ticket and stand a chance in the following US Mega Millions draws, when making plans ahead, you also cut costs.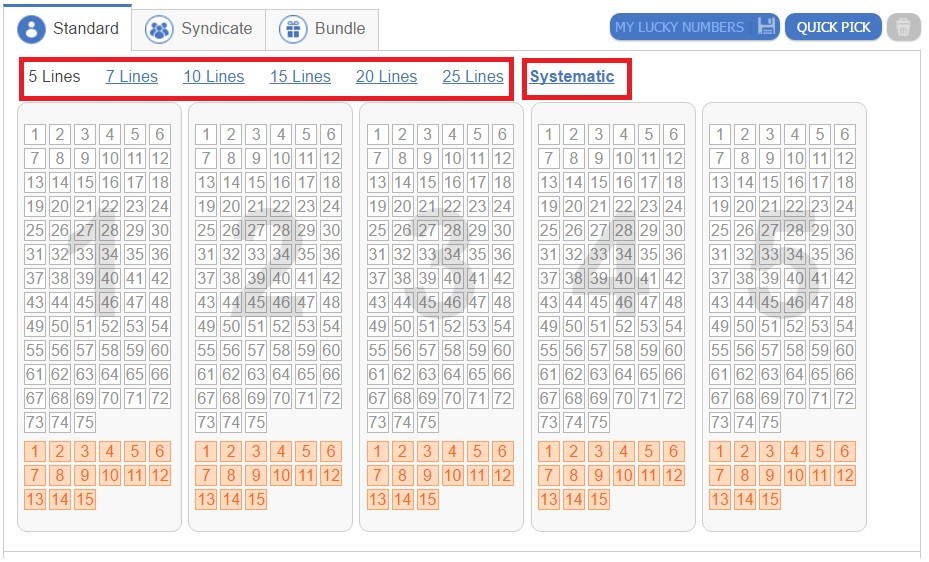 Standard – Standard tickets are yours and yours only. You are the sole owner of the ticket and of any potential wins. You can play with 5, 7, 10, 15, 20, and even 25 lines at once.
A systematic form allows you to boost your odds of winning a prize exponentially. Instead of entering a draw with 5 numbers, you have the choice to try your luck with 6-11 numbers. This means that theLotter's local agents will purchase for you the lines covering all possible combinations of your numbers.

Syndicates allow you to improve your odds by playing with a group. There are different types of US Mega Millions syndicates, but not all of them are available at all times. Syndicate tickets are already purchased, and you can select the number of shares from those still available.
Bundles offer you the best of both worlds. You get to play your favourite lottery with an individual ticket and together with a group, at the same time. There are different types of bundle offers available, depending on the number of shares included in the package.
Mega Millions Megaplier
The Megaplier is another great feature of the US Mega Millions lottery. This is a multiplier ranging from 2 to 5. It does not influence your odds of winning, but it does boost the value of your wins. If you choose to play with the Megaplier, there is an additional cost added to the ticket price, but in case you win, your prizes get 2x, 3x, 4x or 5x bigger, depending on the value of the multiplier for the respective draw. Imagine that you won $1 million – the US Mega Millions second prize, and played with Megaplier. If the Megaplier of the draw was 5, you don't scoop $1 million, but an incredible $5 million!

If you want to add Megaplier on your US Mega Millions ticket purchased on theLotter, just make sure you checked the Multiplier box at the bottom of the play form.
Can I Play Mega Millions Online from South Africa?
Yes! theLotter's services are available from wherever you are. Not only can you choose from draws taking place in over 20 countries, you can also continue playing, regardless of your location. Now you are no longer restricted to the South African lotteries, but the entire world is open to you. You can expand your horizons and keep buying your tickets even if you move to another country or simply travel abroad.