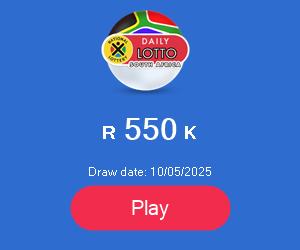 Have you played the SA Daily Lotto today? Then you must be curious to find out if you are one of the big winners! Here are the latest Daily Lotto results! You can check your tickets online and see if you have won any of the 4 prizes in the game!
Check Your Daily Lotto Numbers Online
The winning numbers for the SA Daily Lotto are drawn every day at 21:00 (SA Time). After the draw, the results are available on megamillions.co.za. Below you will find the SA Daily Lotto results for the past 10 draws. You can check your ticket right here!
To win the SA Daily Lotto first prize, you have to match all the 5 main numbers, but remember that there are 4 prize categories in the game in total. Matching 4 of the main numbers will get you the awesome second prize and with 3 numbers, you can scoop the third prize. You can even win if you only guess 2 numbers in the Daily Lotto, so give it a chance! Play SA Daily Lotto for a chance to be a lottery winner! Good luck!