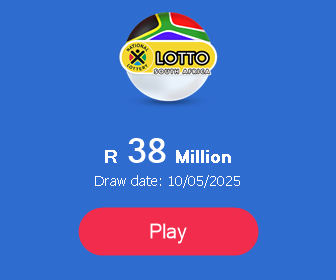 6/49 games are the most popular lottery games in the world and the SA Lotto is one of the best in this category. It is also one of South Africa's top games. This thrilling lottery offers a very tempting jackpot, some very generous prizes, as well as some attractive extra features. We're going to tell you all about them in this article.
The SA Lotto is available in South Africa, but also to the rest of the world via lottery messenger service theLotter. You can play Lotto online on a safe platform and gain access to some advanced play options to boost your odds of winning the game. Find out how to play South Africa Lotto, what you can win, and how to increase your chances of becoming one of the biggest South African lottery winners right here!
How Do You Play SA Lotto?
To play the game, you have to choose six numbers from 1 to 49 and a bonus number, also from 1 to 49. Matching all the six numbers will score you the big jackpot. The bonus number is required for some of the secondary prizes only.
How to Play SA Lotto Online
To play SA Lotto online, you can create an account on theLotter, the world leading lottery messenger service. Then, you can choose your six numbers in the play grid on their page. You can select your SA Lotto numbers manually or you can participate with a random combination of six numbers by using the Quick Pick feature.
You can choose how many lines you want to buy for the upcoming draw and you can also choose between some of the advanced play options available on theLotter – syndicates, systematic forms, and bundles. You can even choose a Multi-Draw pack or a subscription to participate in the following draws as well. These come with some sizable discounts that are certainly worth your attention.
After you make the online purchase on theLotter, one of the company's local agents will buy the tickets on your behalf from an authorized retailer in South Africa. You will then get a scan of your SA Lotto ticket in your account before the draw takes place. If you win any of the Lotto prizes, these will be paid to you 100%. theLotter does not take commissions from winnings. If you want to try out other games on the platform, theLotter also offers the South Africa Powerball and many other international lotteries.
When Is the SA Lotto Draw?
The official draws in the South Africa Lotto take place every Wednesday and Saturday at 9:00 P.M. SAST. You can check the SA Lotto results online soon after the draw to find out if you are a winner.
What Are the SA Lotto Prizes?
The SA Lotto offers eight prize categories including the jackpot. Each prize is worth a percentage of the prize pool and amounts vary from one draw to the other. The jackpot worth 73% of the prize pool will be shared by the players who match all the 6 main numbers in the game.
As for the other SA Lotto prizes, they will be paid in full to each player who has the winning combination. In the table below, you can see the full list of prizes in the game, as well as the odds you stand to win the prize with each line.
| Division | Match | Prize Fund % | Winning Odds |
| --- | --- | --- | --- |
| 1st | ⚪⚪⚪⚪⚪⚪ | 73.0% | 1: 20,358,520 |
| 2nd | ⚪⚪⚪⚪⚪ + 🔴 | 2.3% | 1: 3,393,087 |
| 3rd | ⚪⚪⚪⚪⚪ | 4.0% | 1: 75,402 |
| 4th | ⚪⚪⚪⚪ + 🔴 | 5.0% | 1: 30,161 |
| 5th | ⚪⚪⚪⚪ | 8.4% | 1: 1,371 |
| 6th | ⚪⚪⚪ + 🔴 | 7.3% | 1: 1,028 |
| 7th | ⚪⚪⚪ | R50 Fixed | 1: 72 |
| 8th | ⚪⚪ + 🔴 | R20 Fixed | 1: 96 |
How to Increase Your Odds of Winning the SA Lotto Online
The South Africa Lotto offers very good odds of winning, so it is certainly worth taking a chance for the big SA Lotto jackpot! But when you play the game online on theLotter, you can get access to some advanced play options and increase your chances of becoming a winner.
SA Lotto Syndicates – The more tickets you have in the game, the more chances you have to become a winner. With syndicates, you can play SA Lotto with a large number of tickets, but only pay a fraction of the cost. You purchase shares in a syndicate and if you win, you get your share of the winnings. It is a very affordable way to boost your odds of winning the lottery.
SA Lotto Bundles – On theLotter, you can buy packages with standard entries and a share in a SA Lotto syndicate at a special price. This way, you can play the game with your very own ticket, as well as a group entry.
SA Lotto Systematic Forms – With this advanced play option, you can play SA Lotto with all the possible combinations of your lucky numbers. This way, even if you only match some of the winning numbers, you will have them on more tickets and take home more prizes.
Multi-Draws and SA Lotto Subscriptions – With Multi-Draws, you can play SA Lotto 5 to 52 draws ahead to make sure you are in the game. This also comes with a discount of up to 25%. If you never want to miss a draw, then you can even subscribe to the SA Lotto and you will get every 10th ticket free of charge. By playing every time, you can actively improve your chances of winning the lottery.
South Africa Lotto Plus 1 & Lotto Plus 2
The South African lottery offers some very tempting additional features – Lotto Plus 1 and Lotto Plus 2. With these, you stand a chance of winning different sets of prizes with the same SA Lotto numbers. Here's how it works:
After you fill out your SA Lotto ticket and choose your 6 numbers and your bonus number, you can add the Lotto Plus 1 and the Lotto Plus 2 feature to your ticket. These cost an extra R2.50/ticket each. With these, you can win the Lotto Plus 1 or the Lotto Plus 2 prizes with your SA Lotto numbers. Please note that you have to play the SA Lotto to participate in the Lotto Plus 1 and that you have to play both Lotto and Lotto Plus 1 to enter Lotto Plus 2.
There are separate draws for Lotto Plus 1 and Lotto Plus 2. After the lottery officials draw the winning numbers for the SA Lotto, they will draw a separate set of 6 numbers + bonus number from separate barrels for Lotto Plus 1 and then, another set from different barrels for Lotto Plus 2.
Players select 6 numbers from 1 to 49 and 1 bonus number from 1 to 49 for the SA Lotto.
The winning numbers for the SA Lotto determine the SA Lotto winners.
The winning numbers for the SA Lotto Plus 1 determine the SA Lotto Plus 1 winners.
The winning numbers for the SA Lotto Plus 2 determine the SA Lotto Plus 2 winners.
The Lotto Plus 1 and Lotto Plus 2 prizes are worth approximately half of the South Africa Lotto prizes, which makes them excellent contenders. Please note that the prize pools for these two additional draws are separate from the prize fund for the SA Lotto.
| Division | Match | Prize Fund % | Winning Odds |
| --- | --- | --- | --- |
| 1st | ⚪⚪⚪⚪⚪⚪ | 53.0% | 1: 20,358,520 |
| 2nd | ⚪⚪⚪⚪⚪ + 🔴 | 8.1% | 1: 3,393,087 |
| 3rd | ⚪⚪⚪⚪⚪ | 5.4% | 1: 75,402 |
| 4th | ⚪⚪⚪⚪ + 🔴 | 6.7% | 1: 30,161 |
| 5th | ⚪⚪⚪⚪ | 13.4% | 1: 1,371 |
| 6th | ⚪⚪⚪ + 🔴 | 13.4% | 1: 1,028 |
| 7th | ⚪⚪⚪ | R25 Fixed | 1: 72 |
| 8th | ⚪⚪ + 🔴 | R15 Fixed | 1: 96 |